Main content starts here, tab to start navigating
Menus
Dear Valued Customers, we are so excited to share our seasonal menu, available via Dine-In, and Order for Pickup through our website!
Whale's Tooth will be offering these delicious Easter Specials along with many regular items.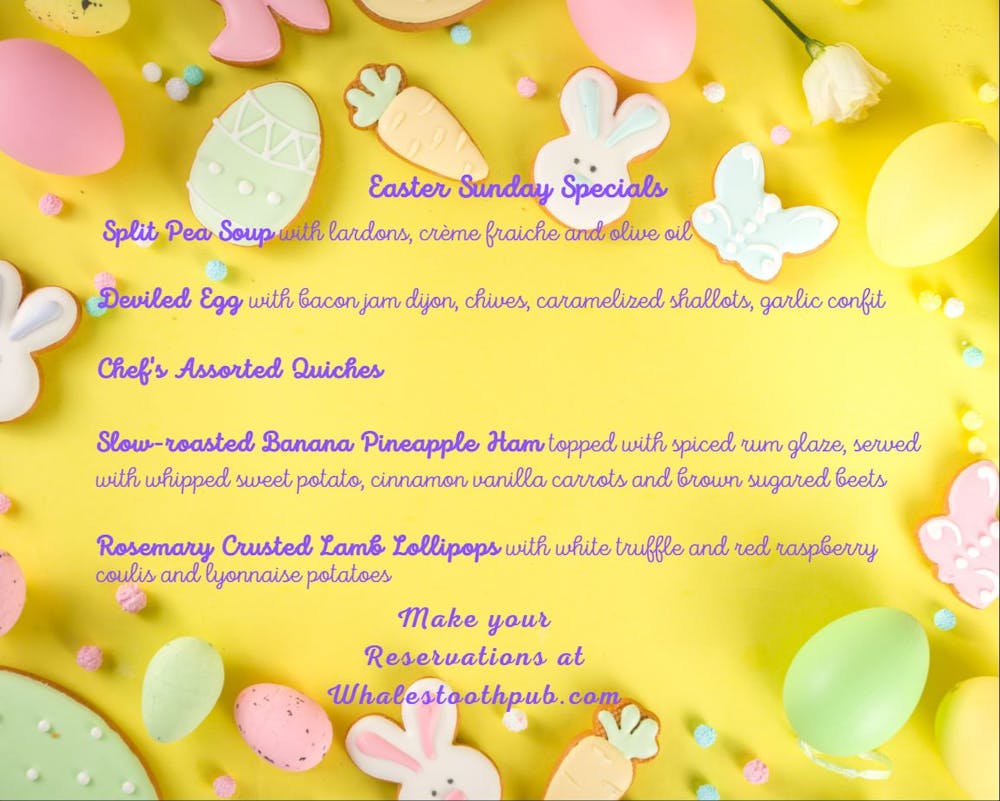 Join us for great Fun and great Value! Wednesdays, Thursdays and Fridays, from 4:00pm – 5:30pm.
Drink Specials: House Red & White Wine $6, Well Drinks $7, House Margarita $7, All Beer (draft, bottle, can) $2 off regular price
Small Plates: Wings (5) BBQ or Buffalo $7, Beef Nachos $9, Pink Parm Truffle Fries $6, Shrimp Cocktail (3) $7, plus look for Chef's daily Happy Hour specials!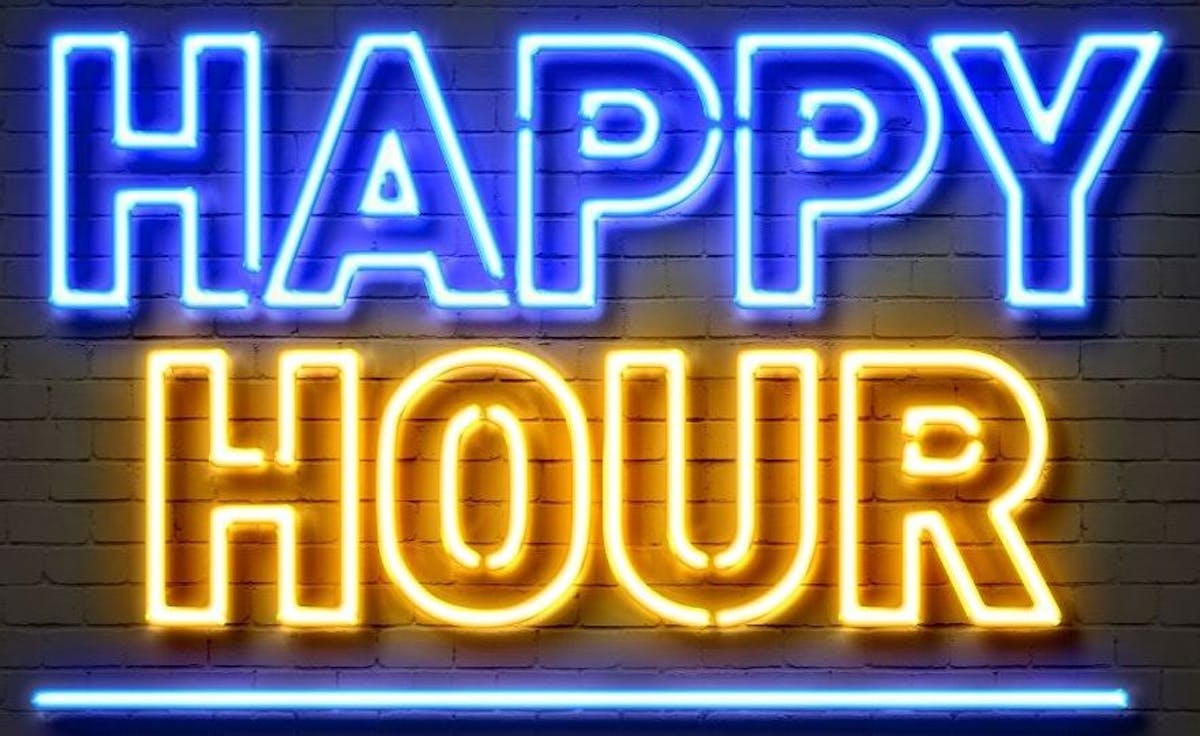 Starters
Marshall Cove Mussels

Cherry tomatoes, shallots, toasted garlic & thyme compound butter, dijon, chardonnay, grilled focaccia

$19

Fried Calamari

Calamari rings, banana peppers, red pepper remoulade, balsamic reduction

$16

WTP Wings

Eight wings, tossed in chef's dry rub, buffalo or BBQ sauce and served with house ranch or blue cheese dressing

$17

gluten free

Shrimp Cocktail

Five chilled shrimp, lemon & sriracha cocktail sauce

$17

gluten free

Pink Parmesan Truffle Fries

Crispy blonde fries topped with a pink aioli, truffle oil, grated parmesan

$12

Beef Nachos

House fried tortillas, tomatoes, jalapenos, black olives, scallions, ground beef, cheddar, salsa, sour cream

$17

gluten free

Sea Scallops

Three pan-seared scallops, lemon & basil infused olive oil

$23

gluten free
Sandwiches
All sandwiches served with a choice of french fries or side salad
Classic Burger (*)

Ground black angus, lettuce, tomato, cheddar, toasted roll

$19

Spicy Chicken Ranch (*)

Buttermilk fried chicken breast, spicy honey, chopped bacon, pickled jalapenos, lettuce, tomato, house buttermilk ranch, toasted roll

$19

Pastrami Reuben (*)

Pastrami, swiss, thousand island dressing, sauerkraut, toasted roll

$19

Haddock Street Tacos

Moist flaked haddock, shredded cabbage, cilantro, pico, corn tortillas

$17

gluten free

Portabella (*)

Marinated portabella, lettuce, tomato, provolone, toasted roll

$16

vegetarian
Kid's Menu
Served with french fries or apple sauce. Kid's menu is available for guests 10 years and younger
Grilled Cheese (*)

$9

vegetarian

Hamburger (*)

$11

Chicken Fingers

$10

Pasta & Butter

$10
Soups and Salads
French Onion Soup

Swiss & provolone cheese, crouton

$9

Haddock-Bacon Chowder

Cup $6

Bowl $10

gluten free

House Salad (*)

Mixed greens, cherry tomatoes, red onions, carrots, croutons, white balsamic vinaigrette

$14

Side $7

vegetarian

Harvest Salad

Mixed greens, sliced pear, candied walnuts, sage goat cheese, bacon, cranberry-apple vinaigrette

$16

gluten free

Strawberry & Toasted Almond Salad

Organic field greens, sliced strawberries, toasted almonds, crumbled feta, strawberry zinfandel

$15

gluten free

Warm Winter Sauté

Kale greens, brussels sprouts, caramelized onion, toasted garlic, bacon, warm maple vinaigrette

$16

gluten free

Add-On

Grilled Salmon $18

Grilled Shrimp $16

Fried Calamari $16

Grilled Chicken $12
Entrees
Osso Bucco Pork Shank

Slow roasted, mashed potato, seasonal vegetable, demi glace

$32

gluten free

Bourbon Street Ribeye 12 oz

Chargrilled, mashed potato, seasonal vegetable, bourbon demi maple compound butter, caramelized onion

$34

gluten free

Shepherd's Pie

Ground lamb, root vegetables, mashed potato, demi glace

$24

gluten free

Lasagna

Ricotta, house-made marinara, mozzarella, shaved parm, oven baked

$23

gluten free, vegetarian

Lobster Ravioli

Lobster stuffed ravioli, tomato, spinach, shallot, chardonnay, lobster meat, chopped basil, cream

$34

Seared Salmon

Oven seared salmon, pineapple beurre blanc, arborio rice, seasonal vegetable

$32

gluten free

Shrimp Risotto

Sauteed shrimp, toasted garlic, shallots, butternut squash, creamy sage risotto

$28

gluten free

Fish & Chips

Beer-battered haddock, house-made tartar sauce, french fries, and coleslaw

$24

Baked Haddock (*)

Lemon, butter, white wine, seasoned bread crumbs, seasonal vegetable, mashed potato

$25

vegetarian
Notes: (v) vegetarian, (gf) gluten-friendly, (*) can be made gluten-friendly, (mp) market priced. We use gluten in our kitchens and therefore our menu is gluten-friendly as cross-contact in our kitchens may occur. Our menu is not for severe gluten-, nut-, or seed-allergic guests. Please share any allergy or dietary needs with your Server.
Red
Casa Portuguesa, House Wine

$8

La Valentina Montepluciano, Abruzzi Italy

Rich and spicy on the nose, black fruits, layers of flavors, hint of chocolate, lingering finish

$12

$48

Ghost Runner, California

Rich aroma, mixed berries, and black cherry preserve, hints of spice, decadent red blend finishes with soft tannins

$11

$44

Chateau Bianca Pinot Noir, Oregon

Fruit forward, soft round mouthfeel, simply delicious

$12

$48

Domaine Bastide, Cotes Du Rhone, France

Amazing Red blend, a must try

$11

$44

Sin Rodeo Malbec, Argentina

Intense, aromatic, and energetic

$10

$40

Lyle Thomas, Cabernet Sauvignon, California

Spicy, dark black currant, long elegant finish

$12

$48

Katherine, Cabernet Sauvignon Alexander Valley, CA

A concentration of wild black berries, bittersweet chocolate, maple with supple tannins, the finish is luxurious and velvet-like as it gracefully ends

$15

$60
White
Casa Portuguesa House Wine

$8

Salmon Run Riesling, New York

Tastes of pineapple and lemon sorbet. Perfect light sweetness

$11

$44

Riff Pinot Grigio, Italy

Lively and dry, great for starting your meal

$10

$40

Grayson Chardonnay, California

A classic California style, rich and creamy with a touch of oak

$11

$44

Cederberg Sauvignon Blanc, South Africa

Tropical and apple notes, dry yet light and fresh, crisp, multiple layered smells, an amazing palate of minerals, fruity sherbet

$12

$48

Inama Vin Soave, Veneto Italy

Supple and smooth, fruit notes, floral almost candy-like in the nose with a strawberry finish at the end, nice balance, dry

$10

$40

Villa Aurelia, Alpes de Haute Provence, France

A rose that pairs well with everything, roasts, fish and salad dishes, light and crisp not to sweet

$12

$48
Sparkling
Honor Cava, Spain

Made deep in the caves of the Penedes, feel like you are in Barcelona

$11

$44

Prosecco Split

Absolutely delightful with perfect bubbles

$10
Cocktails
Ancho Libre

Tequila, ancho reyes liquor, jalapeno, pineapple, fresh lime, agave

$13

Hemingway Daiquiri

Silver rum, maraschino liqueur, fresh lime, grapefruit juice

$12

Negroni

gin, campari, sweet vermouth, orange peel

$12

Old Fashioned

bourbon, bitters, sugar cube, stirred on rocks, orange and lemon peel

$13

Key Lime Martini

Vodka, cream of coconut, key lime, pineapple

$13

Midcoast Manhattan

Rye, sweet vermouth, absinthe, black cherry

$13

Paloma

Tequila, grapefruit, fresh lime, soda

$12

Blueberry Lemonade

Blueberry vodka, lemonade, topped with blueberries soaked in vodka

$13

Dee's Punch

Coconut, spice and dark rums, pineapple, splash cranberry

$14
On Tap (Pints)
Allagash White

(Wheat), Portland, ME

$9

Copperhouse

(English Bitter), Rock Harbor

$9

Lunch

(IPA) Maine Brewing Company

$9

Smiling Irish Bastard

(Red), Geaghan's

$9

Guinness or Black & Tan

$9

Miller Lite

$6
Bottles
Bud Lite

$5

Budweiser

$5

Corona Extra

$5

Heineken

$5

Michelob Ultra

$5

Geary's Ixnay

$8

gluten free
Cans
Thirsty Botanist (NEIPA)

$7

Funky Bow Midnight Porter

$7

Labatt Blue

$5

PBR

$5
Cidars
Angry Orchard

$5

Original Sin Crimson Chaos

$5

Original Sin Black Widow

$5
Non-Alcoholic
Upside Down (IPA)

$6

Maine Ginger Beer

$5
Soft Drinks
Maine Root Beer

$5

Maine Blueberry Soda

$5

Coke, Diet Coke, Ginger Ale, Sprite, Tonic, Club Soda, Cranberry

$3

Bottled Water

$3

Sparkling Water

$4

Ice Tea

$3

Hot Tea

$3

Hot Chocolate

$3

Lemonade

$3

Coffee

$3

Chocolate Milk

$3
Our Desserts and fresh Bread program are seasonally focused and prepared daily in our baking kitchen. Please call for daily offerings.